Miami Food Truck Service
Perhaps you have never taken an interest in the Miami BBQ Food Truck concept, made popular by our well-established BBQ company, the original Traffic Man BBQ. May we hasten to tell you, that we are regarded as one the economical, hassle-free ways of hosting a party. Make your next event a BBQ affair and hire our food truck! Count on us, here at Traffic Man BBQ, to support you from the planning stages, throughout the duration of your BBQ party, until your final guest leaves! Call us!
If you are uncertain about how to go about formulating your BBQ menu, request assistance from our veteran BBQ menu planner, here at Traffic Man BBQ. We have proudly served countless clients throughout South Florida, for many years, operating our food truck in a professional manner. Our clients praise us! You too, will be soon praising us for our delicious, elegantly presented BBQ, from our well-organized Miami BBQ food truck. By the way, we go way beyond great BBQ fare and side dishes from a food truck. We also rent entertainment features, some for adults and some for kids.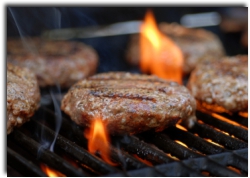 You and your party guests will definitely enjoy the BBQ fare served from our Miami Food Truck. We, Traffic Man BBQ, are ready to offer you FREE estimates! Few other caterers are as willing, as we are, to provide FREE estimates! Do not hesitate to make contact with us and discuss your needs, whether residential or corporate. Our food truck pleases all!
Where We Service:
Broward County Catering
Palm Beach Catering
Miami Dade County Catering
What We Offer:
We specialize in company picnics, corporate barbecues, kids birthday parties, family reunions, organization picnics and any type of breakfast catering. We also rent bounce houses, tables and chairs, snow cone machines, clowns, magicians, popcorn machines, cotton candy machines, rock climbing walls, petting zoos, trackless trains, obstacle courses, D.J's, and almost anything else you can imagine for a party, picnic, barbecue or catered event. Traffic Man BBQ & Catering recently acquired a state of the art Ice Cream Sunday Bar on a high tech trailer served with all the toppings. Please inquire for any event.